Tips on how to avoid injuries while teleworking
With everything going on lately worldwide, more and more people are now working from home. Telework has many advantages like a flexible schedule, a more comfortable and private environment, no commuting and the possibility to work in your pajamas!
However, telework also presents with its own risks and limitations and you might be inclined to develop long term aches and pains. This is why I'm taking the time to inform you on how to prevent injuries, how to know if you are at risk and starting to develop any kind of problem and how to deal with the situation if you are starting to have pain.

Headaches
Can be caused by inadequate lighting and bad positioning of the computer screen - your eyes might work too hard and cause a headache.
The noise at home is not sufficient to cause any ear damage, however, limiting the noise will help with your concentration and reduce stress.

Neck and back pain
A chair that doesn't have much support and a desk and workspace not well adjusted can increase strain on the back causing pain and tensions.
Research has shown that being sedentary will increase the risk of having chronic back pain (on top of being linked to many comorbidities like diabetes and cardiovascular disease).

Tendonitis and muscle tension
Shoulder tendonitis and tennis elbow are very common with repetitive motions like using a computer mouse or holding the phone to our ear for long periods of time.
Carpal tunnel syndrome is also frequent with computer work. It is important to keep the body in a good position and wrists in neutral especially when typing.

How to sit properly at your desk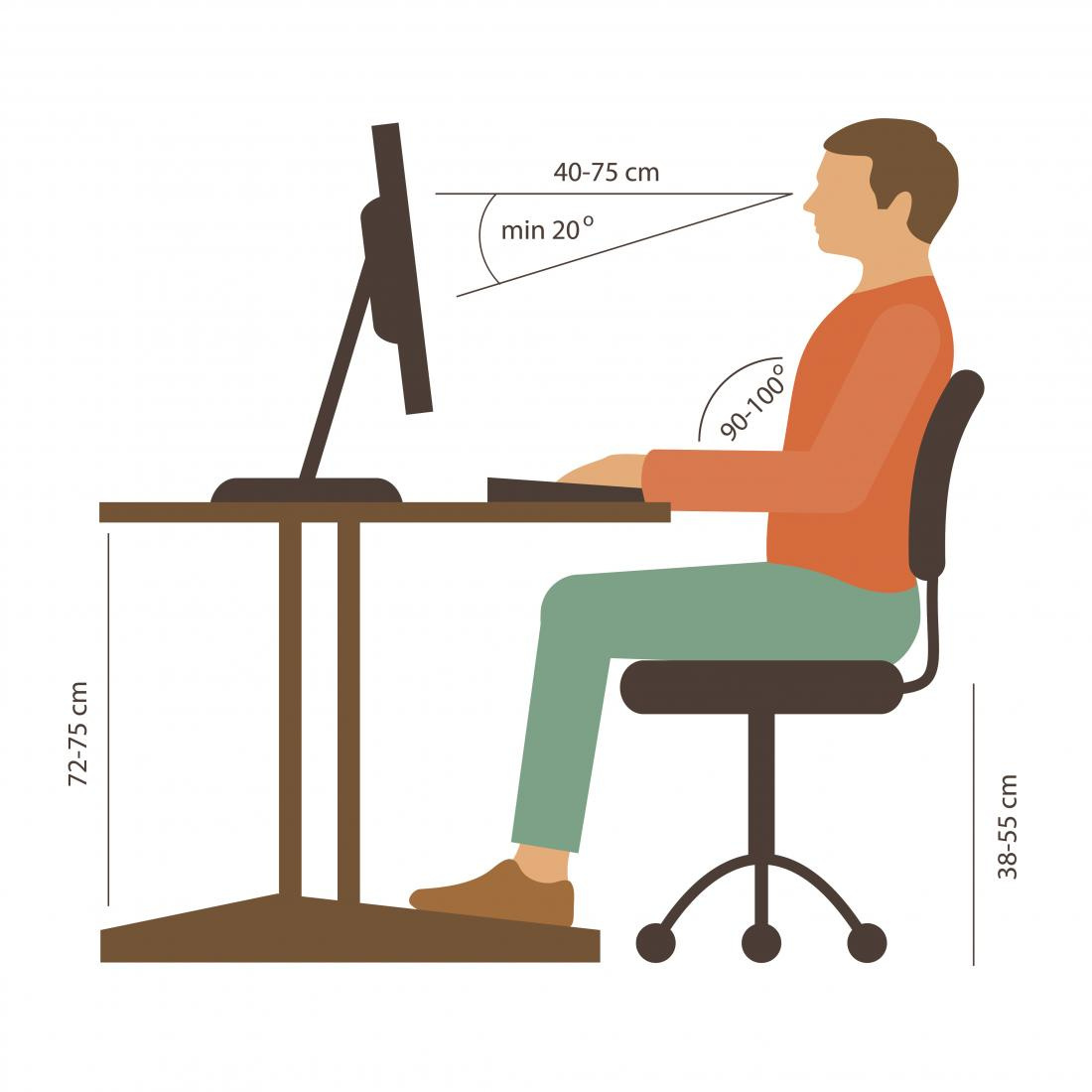 Adjust your chair to make sure your thighs are parallel to the floor, the space between the edge of your seat and the back of your knees is about 2 or 3 fingers and that your feet are flat on the floor or on a footrest.
Adjust the lumbar support so that it rests in the small of your back. If you don't have a chair with a lumbar support, you can make your own by rolling a towel and placing it in the small of your back, right above your belt line.
When sitting, bend your elbows at 90 degrees on the armrests and relax the shoulders. If your armrests are too high or too low, do not use them.
Make sure that the height of your desk is equal to the height of your elbows when you are sitting and that everything you need is close by so you don't have to reach too far.
When using the computer, make sure that your head is in neutral, eyes straight ahead and the computer screen at an arm's length. When using the keyboard, wrists should be relaxed and aligned with your forearm. This also applies to the use of the mouse.